Von Miller, OLB, TAMU, 6'3 246 lbs
SKILLS
Strengths:
Von Miller is one of the most talented and athletically gifted players in the 2011 draft. The top rated outside linebacker available, Von Miller rushes the passer as good if not better than anyone in the country. His long arms, ability to bend at the waist and run the "arc" to the QB, and excellent foot quicks, make Miller an explosive weapon at the 3-4 outside linebacker position. An increasing position of demand that usually fields more busts than any other position in recent drafts, Von Miller seems to be the only sure thing at the position in 2011. Miller was a 4-year senior, a defensive captain, and his coaches even created a "joker" position because of his unique skill set.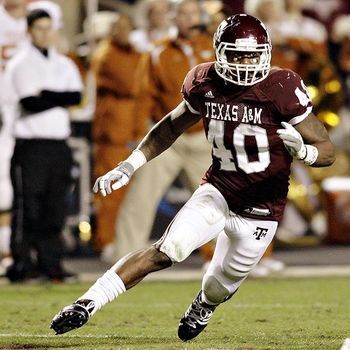 Miller "running the arc"
After exploding onto the scene in his junior 2009 campaign with 17 sacks, Von Miller had an opportunity to enter the NFL draft and be drafted very early. Regardless, Miller decided his degree and development as a prospect and player were of utmost importance, choosing to return to TAMU for his final season. The early part of the year brought up skepticism, as he was not nearly as effective as he had been in '09. The reason for the early inability can be attributed to a high ankle sprain, which Miller played through. Once healthy, Miller regained his form as the nation's premier rush OLB, racking up 11 sacks and 25 more tackles than he had in 2009. Miller showed that not only could he rush the passer effectively, but that he was devoted to becoming the best outside linebacker he could become. Rounding out his game, Miller showed great improvements in run instincts, block shedding, holding the POA, tackling, and more importantly, pass coverage.
Victory sealing interception by Von Miller at Texas
Miller raised his tackle total from 43 in 2009 to 68 in 2010, and even added an interception that sealed a victory. Although he was mainly used by TAMU in rushing the passer, the improvement in coverage was most evident to me in senior bowl practices and the senior bowl game; here are some notes I took, "Von Miller good in coverage; has a great burst, explosive step, fluid hips… Von Miller has excellent range; covers sideline to sideline." To add the weight scouts wanted and remain just as explosive, not only means that Von Miller put on "good weight", but also means that he is just reaching his full potential- "peaking" if you will. Von Miller is the definition of a high upside draft pick.
These were my final thoughts after the senior bowl week-
"One of the most explosive players in the coming NFL draft, Miller's performance this week has been perfect from the weigh-in, until the last practice. He came in with bigger than expected size, long arms, and consistently beat whoever was blocking him. Very polished as a pass rusher, great hands, ability to speed rush and counter against elite blockers such as Derek Sherrod, Von Miller stood up to the top tier of o-linemen and exceeded expectations. Add him to the list of potential top 10 picks in the 2011 draft."
Von Miller's pass rush ability, combined with elite athleticism and coverage ability, make him a good fit in any scheme 43 or 34.
Weaknesses: Although Miller is an extremely talented and gifted pass rusher, he still lacks the size most teams look for in a 3-4 rush outside backer. Typically you take a 4-3 athletic end or a big, pass rushing linebacker when choosing a 3-4 rush outside backer. When you watch Von Miller on tape, albeit he is spectacular at getting to the QB, he looks like he weighs somewhere between 220 and 230 lbs. One of my close friends even remarked that Miller, "Almost looks like a safety." Later comparing him to Taylor Mays. Not to say Miller SHOULD play safety, however Miller does lack ideal size as a 3-4 outside linebacker.
Although he markedly improved his ability to anchor against the run and play the true linebacker position, Miller only flashes the ability to disengage from blockers. Needs to be much more consistent at the next level, and from the workouts I've watched at the combine and reports I've read about his pro-day, Miller is working on correcting just that.
Von, while being more effective in zone coverage because of his great instincts and above average ball skills, is inexperienced in and struggles when forced to cover man to man. Needs to develop proper technique, hand placement, and learn how to run with his man downfield.
ANALYSIS
Best Fit: I feel Von Miller's skill set is just what NFL teams running a 3-4 defense crave; disruptive, explosive, productive pass rusher who finishes the play. So many 3-4 teams are not effective because their outside linebackers rush too far upfield, creating huge windows for opposing QBs to throw through. Miller understands the art of pass rushing, knowing when to win with a speed rush, or inside counter spin/ swim move.
Head coach for the Bills, Chan Gailey, has stated that he plans on running a hybrid 3-4/ 4-3 defense, as the team will attempt to slowly revert back into a 4-3 scheme. Von Miller's unique skill set could be, "just what the doctor ordered".
Outside of Buffalo, my guess is as good as anyone's as to where he "best fits", but as I stated before, I don't see Von Miller falling outside the Top 10. His versatility and explosiveness will intrigue 3-4 and 4-3 teams equally, and Miller will be solid wherever he goes.
Which team in the Top 10 should draft Von Miller?
X-Factor: With such a top heavy draft, full of top notch defensive linemen and explosive offensive playmakers, its very difficult to gauge where a guy like Von Miller gets drafted. You might assume that because Von Miller is the outright top linebacker in the draft, that his draft stock would be raised significantly due to the drop-off at the position. Nevertheless, as stated in previous scouting reports, the CBA will have the final word. If a deal is met, in which rookie wage scales are dramatically decreased, more teams will be willing to take positions like cornerback and linebacker in order to save cap space and address those issues in the draft. If a CBA is not met, then quarterback values will soar through the roofs, and teams will be drafting quarterbacks like they are a dying currency. Reason being, once again, is that teams under NO CBA will be unable to make ANY transactions outside of their organization. So no signing or trading…
Where he will be drafted: Top 10
Where should he be drafted: Top 5
NFL Comparison: Joey Porter, OLB, Arizona Cardinals
Von Miller vs. Texas (2010)

Von Miller vs Nebraska (2010)